Many variables can limit, block, or tie up the soil's biological activity, nutrient uptake, and plant development. Incite is an ionized silicate, a fertilizer-based product that improves nutrient availability, protects soil microorganisms, and reduces plant stress to aid in plant growth.
The revolutionary flowable silica compound reduces stress on a growing plant by creating a protective layer, allowing cell respiration, metabolism, photosynthesis, etc., to continue. Using Incite ensures your fertilizers, micronutrients, and microbes function properly and improves nutrient availability to aid in plant growth.
Creates a barrier on plant surface to prevent disease pressure.
Lowers plant evapotranspiration, keeping moisture in the plant.
Reduces the need for expensive commercial fungicides.
Great source of in-season K.
Tank friendly liquid silicon.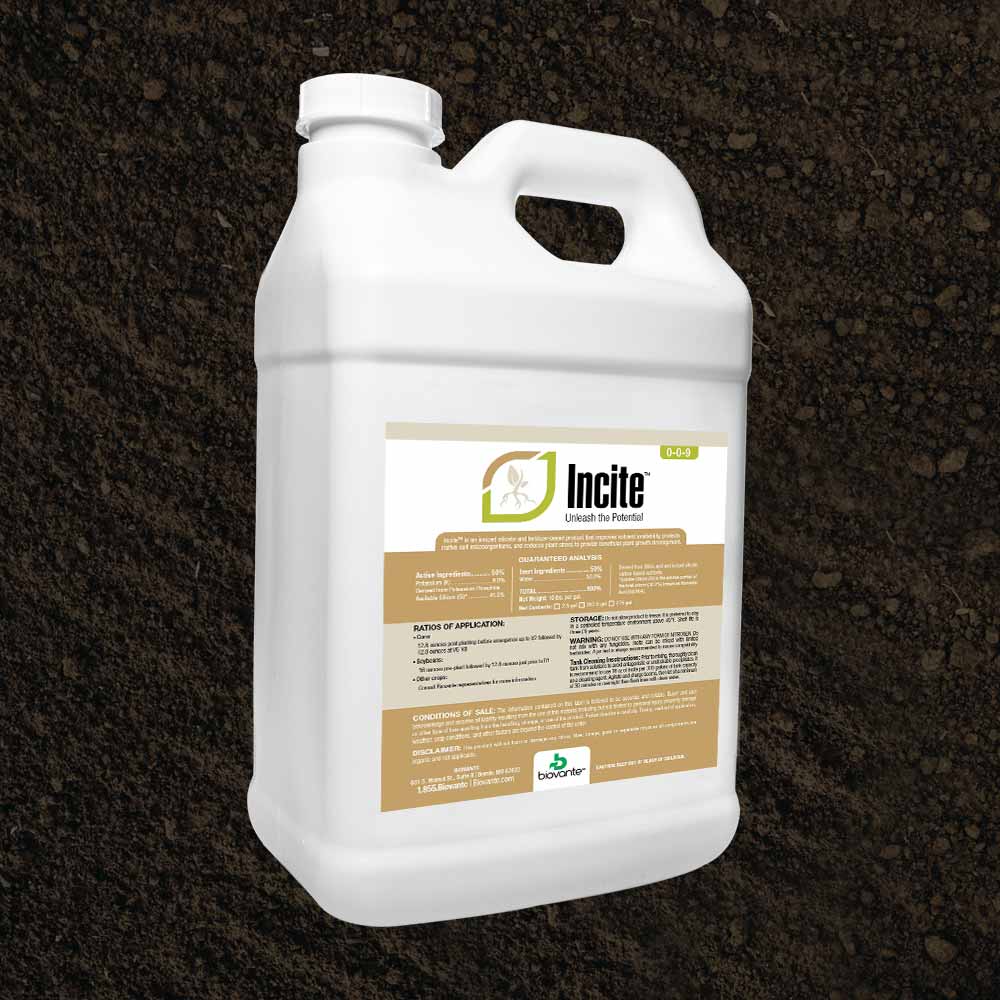 Broadcast • In-furrow • Foliar
All crops, soil types, and water sources. Does not work with
any form of nitrogen.
I wasn't sure what to expect because I had never used BioRed, or any biologicals, for that matter. Even though we lost two fields to the weather, the crazy gains we had in the BioRed fields made our season a success. The best part is we were able to use those funds to reinvest in our planter.
I used to spend a ton on seed and synthetic nitrogen, I knew I needed to do something different. Biovante products have helped me reduce input costs while setting record yields and making more profit. The soil on my farm has never been healthier, and I'm seeing that investment pay off big time.
Soybean Yield Record Holder
Biovante has been a great addition to our agronomy program for the last three seasons, resulting in improved corn and soybeans yields. We've concentrated on plant health with BioCore and BioRed infurrow at planting, followed by a strong foliar fertilizer program throughout the growth cycle with BioMate sugar. We've very satisfied and plan to continue using Biovante products in the future.