The Biovante performance guarantee!
You've got nothing to lose! We guarantee
you'll see ROI on your input costs with these products or we'll reimburse you 100%.
Let's increase your bottom line for this season.
*Click to see eligibility.
Soil treatment
Reduces synthetic nitrogen dependency
Helps restore soil health for long term success
Works with all crops
Seed treatment
Low input cost that averages a 1200% ROI
3 in 1 Product (Talc, Bios, and Micros)
Works with all crops
Plant treatment
Low volume liquid sugars + beneficial bacteria
Increases plant energy on cloudy, cool days
Works with all crops
A ready-to-use microbial package containing free-living soil microorganisms that enhances soil life and energy throughout the growing season and beyond.
A highly concentrated humic acid intended to help condition soils. This liquid product brings high levels of carbon that help feed the micro biodome colonies.
A unique blend of beneficial microorganisms (aka biologicals) which assist in helping the seed germinate, initiate root growth thus resulting in a jumpstart to the season.
An encapsulated biological inoculant formula containing free-living microorganisms essential for seed germination and early vigor.
A liquid seed inoculant kit consisting of carbon, carbohydrates, and biologicals which specifically target plant species that require nitrogen fixation via root nodules.
An EPA-registered, systemic fungicide and bactericide containing an industry-leading concentration of 57% active ingredient.
A supplement to standard fertility programs for maintaining micronutrient levels in plants or for correcting known or suspected deficiencies.
A proprietary patent pending formula containing both macro and micronutrients. These nutrients have been fortified with naturally occurring biostimulants.
A liquid fulvic and humic acid compound with 76 trace minerals, promoting the uptake of nutrients and improving plant and soil health conditions.
A liquid solution of generated sugars and bacteria that acts as an additional food source for soil micro-organisms, while providing energy to the plant.
An ionized silicate, encapsulated fertilizer-based product that improves nutrient availability, protects soil micro-organisms, and reduces plant stress.
A liquid solution of trace minerals derived from Dead Sea salts which may enhance the immune system of the plant, providing a boost in energy and growth.
An efficient liquid nitrogen additive that aids in managing nitrogen levels by minimizing nitrogen loss in soil.
Two chelated micronutrient packages, designed to treat and/or offset suspected micronutrient deficiencies found in corn and soybean production.
A high-quality supplement to added to help native and secondary biologicals in a crop production system.
A fertilizer additive focused primarily to phosphate fertilizers whether dry or liquid. E-15 will stabilize the phosphorus molecule while buffering it from cationic charges in the soil profile.
Yield records we've help farmers achieve
Unlock your crop's potential with biovante products. Not sure where to begin? Request a consult today.
Soybeans bu./acre dryland
I wasn't sure what to expect because I had never used BioRed, or any biologicals, for that matter. Even though we lost two fields to the weather, the crazy gains we had in the BioRed fields made our season a success. The best part is we were able to use those funds to reinvest in our planter.
I used to spend a ton on seed and synthetic nitrogen, I knew I needed to do something different. Biovante products have helped me reduce input costs while setting record yields and making more profit. The soil on my farm has never been healthier, and I'm seeing that investment pay off big time.
Soybean Yield Record Holder
Biovante has been a great addition to our agronomy program for the last three seasons, resulting in improved corn and soybeans yields. We've concentrated on plant health with BioCore and BioRed infurrow at planting, followed by a strong foliar fertilizer program throughout the growth cycle with BioMate sugar. We've very satisfied and plan to continue using Biovante products in the future.
Interested in joining the Biovante team?
Are you looking for a new opportunity in the ag industry? Biovante may be the perfect place for you! We're always looking for talented and hardworking individuals to join our team.
Become a leader in the regenerative farming industry.
Enjoy career stability with a team that has your back.
Make good money while setting your own schedule.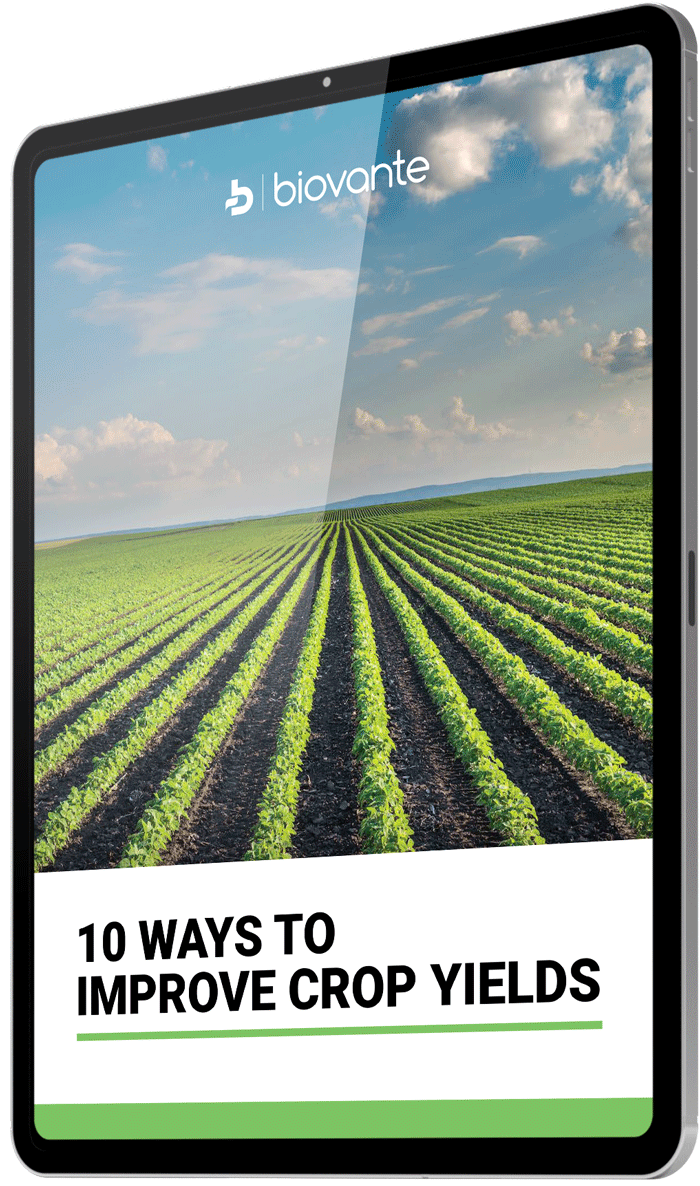 Free download: 10 ways to improve crop yields
Why is it that some farmers are able to produce high crop yields year after year? What's the secret? Better land? Born with green thumb?
Download our ebook and learn 10 ways to improve crop yields. It's a quick read but could change your season and how you farm for the better.
Learn how to increase foliar feeding efficiency.
Learn how to increase your crop's nutrient supply.
Learn how to break down crop residues after harvest.
Get the answer to "When should I plant?"